An e-commerce website, the virtual store for your business, is essential to the triumph of an online entrepreneurship. 
Getting to know your choices is, no doubt, a crucial process to maximize the profitability of your online store. While there are many options on the market such as Wix, Shopify, Shopline, Squarespace, OpenCart, and many more, we'll be placing the emphasis on the two e-commerce website builders that are generally more popular here in Malaysia – EasyStore and WooCommerce in WordPress.
What's the Difference between Easystore VS WordPress?
Everyone wants their business to take the top position on that winners' rostrum. Just like how each athlete who stands up high on the stage has effective trainings led by great coaches, a popular online store starts with a strongly supported e-commerce website and some good guides from a digital marketing team.
So, between EasyStore and WordPress WooCommerce, which gives a better foundational support? What are the main differences that draw a line between them? Firstly, EasyStore was founded in 2013 while WordPress WooCommerce was established in the year of 2011.
Why does that make a difference?

Being developed earlier means that more resources for help and support can be found online more effortlessly, not to mention that WordPress WooCommerce most likely has more users across the globe as compared to EasyStore in which its creators are based in Malaysia.
Another important thing to bring up here, is that WordPress WooCommerce is 100% free to install as opposed to EasyStore which only provides free trials, albeit the affordable packages it provides.

EasyStore vs WordPress WooCommerce: Pros and Cons
The first thing people always do when comparing products or services is to look at the prices. WordPress WooCommerce is free, so that's definitely one of the pros. While EasyStore offers free trials, we need to be realistic and think about the actual practicality. Imagine that you spent a lot of time and effort on a newly created e-commerce website with Easystore. But you don't like it. What happens?
Do you start all over again with something else? Do you continue using this platform with monthly payments, even though you're not really satisfied with it? You get the idea. Making the right decision is important.
EasyStore has many advantages, including
Clean-looking, simple yet user friendly templates
Lazada or Shopee,  syncing
Sales and promotion features
Analytics
On-site customer service
Integrated with Facebook and Instagram Shop
Extras and freebies
However, its POS system is only available for more expensive packages, and it does not support app-based phone management or third-party themes. Some reviews have also complained about the quality of their customer service and lack of online supporting content.
WordPress WooCommerce also has a handful of benefits, including
Limitless customization of designs
Can be built on an existing WordPress site
Has over 50,000 plugins available (Everything that easystore has, Woocommerce has it too)
Larger expandability for its audience, making it more suitable for businesses who want to scale outside of Malaysia
100% Ownership (Depends on your web designer)
Some cons for using WordPress Woocommerce is that the starting point may be a little bit higher and harder to reach for inexperienced users, and that most functions involve getting plug-ins with certain costs. Nonetheless, a small, professional digital marketing team can easily help with the start up of your WordPress WooCommerce website. As for the chargeable plug-ins, if you look at it another way, is a fantastic pathway to customization for a more cost-effective strategy.
100% website ownership is also one of the reasons that WooCommerce is so widely used around the world. For EasyStore, once that monthly subscription is cut off, your website, the hard work, the sweat and tears you've put in all this while can all go wasted as it can be taken down. It will be too late to do anything by then. So, make your decision wisely.
How Easy Are They to Use?
EasyStore is just like its name, easy to use even for beginners. It offers its users with an intuitive interface for e-commerce management including updates and edits of products and inventory.
As EasyStore is fully hosted, it saves you from a lot of technical efforts as compared to WordPress, which is an open-source platform. However, if you have the relevant skills, EasyStore users have full control over HTML and CSS for some tweaking here and there.
On the flip side, WordPress is a tiny bit more technical and requires more hands-on stuff. As hard as it is to believe, this downside of WordPress can actually be turned into an advantage. How so?
One word, customizability. These technical efforts prescribed to WordPress will bring you to the creation of a unique and attractive website that no one has seen before. Remember WordPress WooComerce has 50,000 free/paid plugins to enhance your site.
To add on, both EasyStores and WordPress WooCommerce are mobile optimized and made available for both backend and frontend users anytime, anywhere.
If you're travelling across the world but can't put your mind off your online store, no worries. Both EasyStore and WordPress WooCommerce are accessible as long as you have an electronic device connected to the internet.
Templates and Theme Examples
Easystore, as described previously, is super user-friendly. With just a one-click setup, business owners get to use their modern, trendy templates and themes.
WordPress Woocommerce, too, have templates and themes that are free of charge, yet leaves plenty of room for web designers to customize and design the e-commerce site. This minimizes the chances of having a somewhat similar website with other companies, or worse, with your competitors. By all means, we want to avoid the slander of plagiarising someone's art, isn't it?
Payment Options and Transaction Fees
There is no striking difference between EasyStore and WooCommerce. Charged at a reasonable price, both can be connected to payment gateway providers including iPay88, SenangPay, BillPlz as extensions for a wide range of payment methods including FPX, Visa Master, E-wallets like GrabPay, Boost and many more.
A notable point to mention here is that EasyStore has more payment gateways that are well-suited for Malaysians, such as Touch N Go Pay and Maybank2U all integrated into their platform. No extra payments needed.
As for delivery options, both EasyStore and WooCommerce are also equally competitive. They provide many choices of shipping companies such as Poslaju and DHL for the convenience of sellers.
WordPress WooCommerce is known for its impressive SEO plug-ins. With codes optimized for SEO, owners of e-commerce websites can boost their store by customizing their URLs, adding meta tags and descriptions to improve visibility. The guides and prompts throughout the process of SEO building is also a plus point for those in need.
Although EasyStore also incorporates basic features for SEO management, WordPress WooCommerce delivers a much wider range of SEO plug-ins to drive more traffic to your website, which will then lead to better sales and conversions. Trust us, we've used both, and the detailed SEO functions in WordPress are amazing.
EasyStore on Product Page
The above is Kapten batik Store built with EasyStore. We love their online store how super elegant is built. Visit kaptenbatik.com.my website.
WooCommerce on Product Page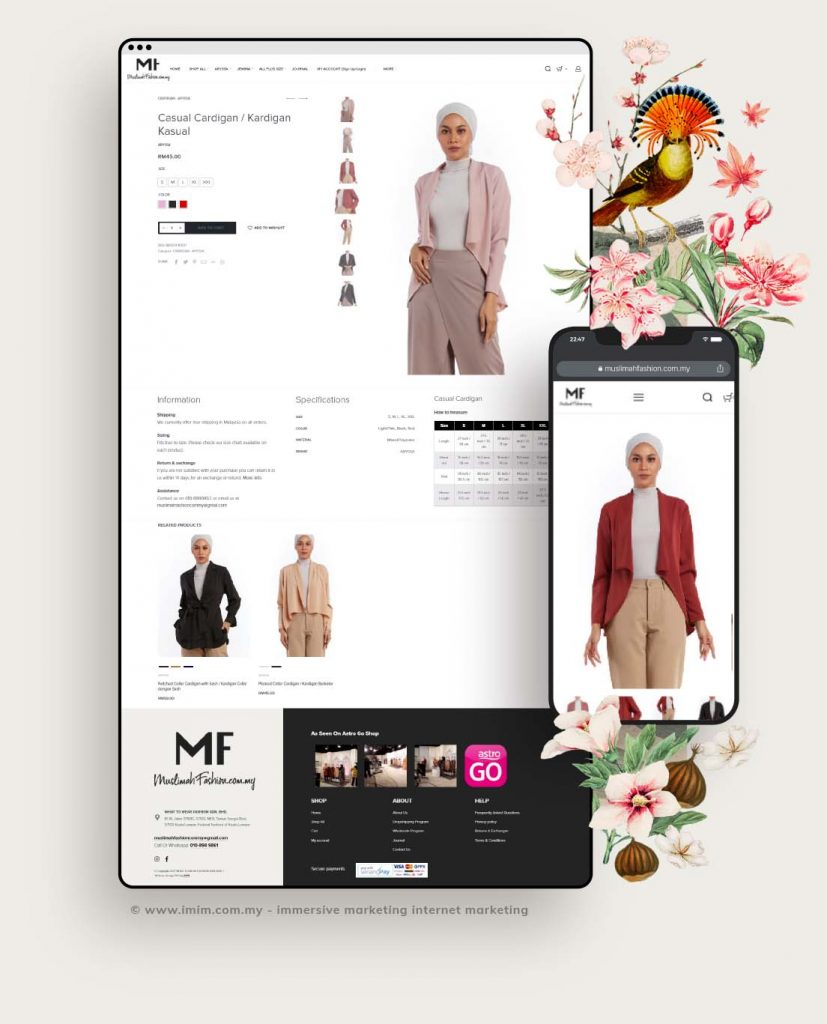 How Much Do They Cost? EasyStore Pricing Vs WordPress WooCommerce Pricing
EasyStore Pricing
Free 14-day Trials
Lite plan RM53.10+ per month
Standard plan RM139.30 per month
Business plan RM299.40 per month
Enterprise RM1999.00 per month
WooCommerce Pricing
Free Forever
You'll need to hire web designers for a one-time job
You can learn from YouTube if you're doing it yourself
You'll only need to pay RM6.60 per month for your domain name.com.my
You'll need to pay RM12.50 per month for web hosting (using namecheap.com hosting)
EasyStore Long Run
Business plan RM299.40 per month (RM3592.80 per year) – 3 years is RM10,778.40 
Enterprise RM1999.00 per month (RM23,988.00 per year) – 3 years is RM71,964.00
For low budget, we suggest that you sign up for its lite plan with RM53.10 per month. (RM637.20 per year) – 3 years is RM1911.60
WooCommerce Long Run
 One-time web designer fees (Market price for hire an experienced web designer RM3000.00++ (one time payment) depending on what requirements you want.
Domain name + Web hosting fee is RM19.10 per month (RM229.20 per year) 3 years is RM687.60
For low budget, we suggest you to learn and build your own store by learning from YouTube. It is free, you pay for the webhosting and domain only.
Free stuff is not always the best, but in this case, it is.
Yes, WordPress WooCommerce is free. It does charge for its extensions but considering the extra functions that they can provide to your e-commerce site, the prices are reasonable and cost-effective for online stores.
We're not saying that EasyStore is expensive, as they are far from that. In fact, they're competitively priced as compared to others. They offer packages with affordable prices and extra discounts for their yearly plans. Their smallest plan priced at RM53.10/month comes with a good deal of some basic marketing features, free themes, and zero transaction fees. Nevertheless, there is a limit for this plan. Only 1000 products or lesser can be uploaded, making it restrictive for businesses with more variations in their products and services.
Easystore can be a choice for small businesses, but since WordPress Woocommerce also offers certain marketing tools, unrestricted design customization, and zero transaction fees, why not opt for it instead? We can always install the plug-ins for extra functions according to personal business needs and save unnecessary costs for utilities that are not needed at all. More advantages without losses, am I right?
Although EasyStore also incorporates basic features for SEO management, WordPress WooCommerce delivers a much wider range of SEO plug-ins to drive more traffic to your website, which will then lead to better sales and conversions. The fact is, we've used both, and the detailed SEO functions in WordPress WooCommerce are amazing.
Easystore vs WordPress WooCommerce: Final Thoughts
WordPress WooCommerce, over all these years, has won the hearts of many business owners internationally. As a cost-effective e-commerce platform, it is indeed our strongest recommendation for all clients to build a powerful online store tailored for their targeted audience. Although EasyStore is created locally in Malaysia, it is much more limited in terms of design flexibility and functions yet requires a higher cost. WordPress Woocommerce, on the other hand, is entirely free to install.
As mentioned before, Search Engine Optimization (SEO) is the main course of meals in digital marketing. It determines the strength of a business's digital presence. It attracts customers. It gets you more sales and leads. In this case, WordPress Woocommerce wins again as reviews have said that Easystore does have a comparatively weaker online visibility.
Also, unlike Easystore, WordPress Woocommerce is an extremely well-developed source with information and public support forum easily accessed online. This makes the management of website much easier when businesses choose to progress without coding professionals. It allows owners to stand strong on their own feet.
So, before you make your choice, think about the needs and requirements of your business. Other than pricing, it is important that we plan ahead and make sure that the functionality is worth our time, money, and effort in the long run.
Still unsure about your choice? Talk to us and explore more about your options.
The above is Kapten batik Store built with EasyStore. One of our favorite online store. Very classy yet super elegant design. Visit kaptenbatik.com.my website.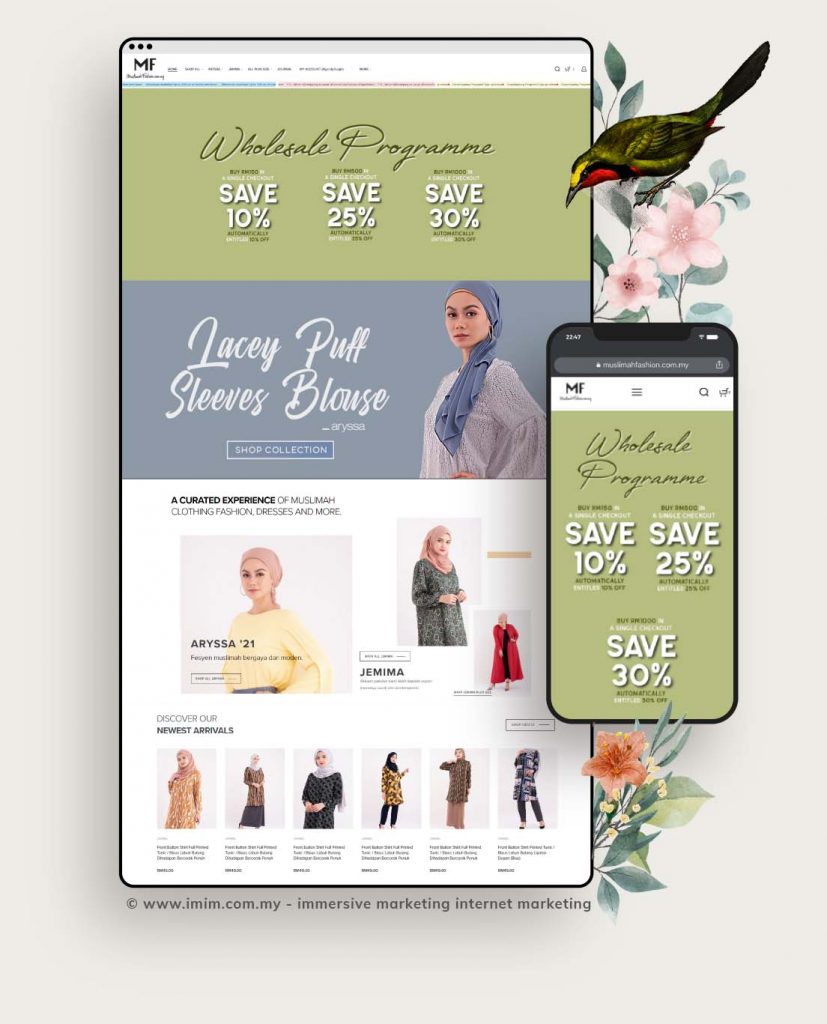 The above is Muslimah Fashion Store built with WooCommerce. Custom built by us "IMIM". Visit Muslimahfashion.com.my website.
Which is the best for me?
If you are a startup company with a low budget aiming for a website with simple functionality and easy-to-build features, we recommend Easystore. Building your own website requires time but EasyStore have great customer support. WordPress WooCommerce, on the other hand, has many tutorials on YouTube, but unfortunately, no customer support. Users must then rely on web developers, support forums, and plugin developer support.
If you do not want to waste time on learning, hire a web designer to build everything from A – Z. You'll need a really reliable web designer to do this job. WooCommerce sites can be super profitable and SEO-friendly if web designers do it right.
Not sure if your web designer is suitable and meet you requirements? Check out why we're suitable for you ( Why choose us to design website for you) here or contact us to custom build website that outranks your competitors on the internet. Time is money. Whatsapp Miss Tan, our Digital Marketing Expert now.